As part of the CCIFI Network's event, FICC will present the many opportunities of the Irish Market in light of Brexit (14h45 to 15h45 GMT)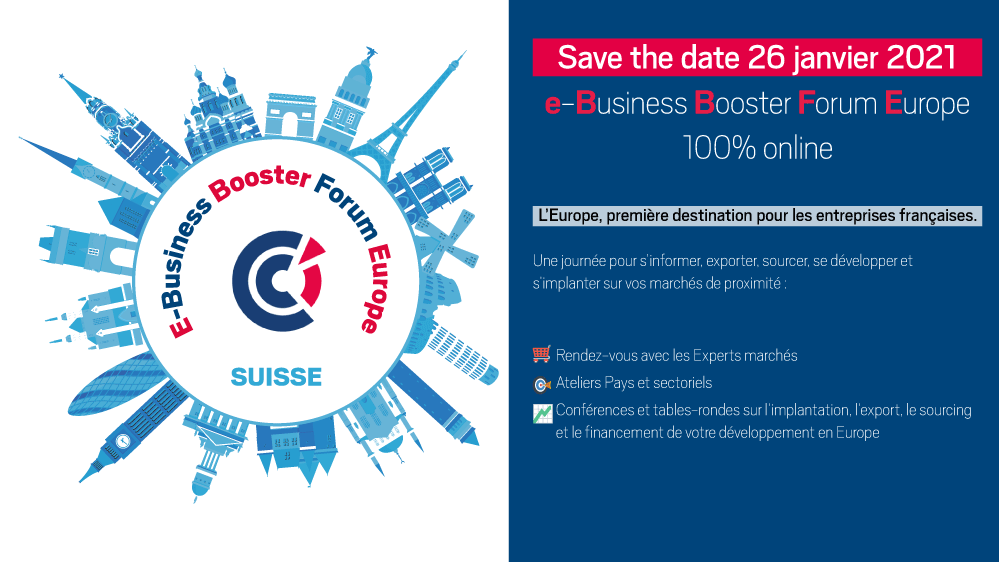 FICC, as part of the CCI France International Network, will take part in a 100% digital event, the e-Business Booster Forum, jointly organized by 18 French CCIs abroad.

January 26th from 9:15 am to 5:45 pm (GTM+1) will be a day to get information on how to export, source, develop and set up in your local markets!

For this special occasion, the France Ireland Chamber of Commerce will present the many opportunities of the Irish Market in light of Brexit, between 15h45 and 16h45 (GMT +1).
We thank Eoin Scott Commercial Director, Motherboard Ltd, Stella Clarke, Chief Marketing Officer, Murex and Augustin Blanc, General Manager, Servier, for joining us and sharing their expertise.

Please note that the webinar will be in French.

More information in French below:

Rendez-vous le mardi 26 janvier de 9h15 à 17h45 (GTM+1) à l'occasion d'une journée pour s'informer, exporter, sourcer, se développer et s'implanter sur vos marchés de proximité ! Cet événement 100% digital est organisé conjointement par 18 CCI Françaises à l'International (CCI FI).
Vous vous demandez comment gérer au mieux votre développement à l'international ?
Informez-vous sur les sujets d'implantation, d'export et de sourcing auprès des experts du marché européen ainsi qu'au travers de témoignages d'entreprises.

Vous êtes intéressé(e) par un ou plusieurs marchés en particulier ?
Obtenez les informations pertinentes pour évaluer les opportunités de chaque pays présenté.

La Chambre de Commerce France Irlande présentera lors de cet événement un webinaire sur « Le Marché Irlandais - Les Opportunités après le Brexit », à entre 15h45 et 16h45 (GTM+1).

Vous vous posez des questions sur votre projet (développement commercial, mode d'implantation, aspects réglementaires liés à votre secteur d'activité, etc.) ?
Programmez des rendez-vous individuels avec les experts et bénéficiez de conseils personnalisés.