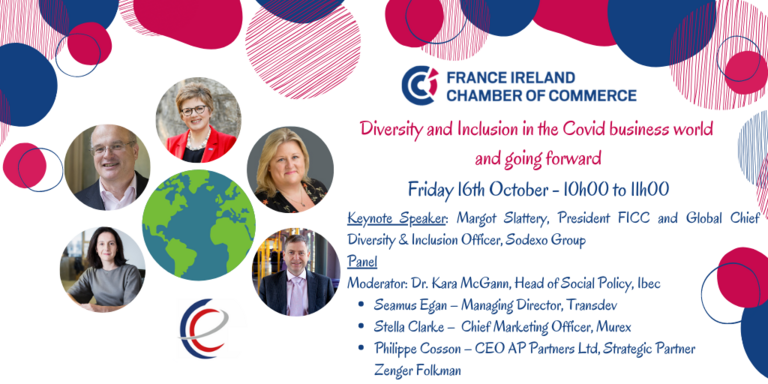 Keynote Speaker: Margot Slattery, President FICC and Global Chief Diversity & Inclusion Officer, Sodexo Group
Moderator: Dr. Kara McGann, Head of Social Policy, Ibec
The Sodexo Group is a worldwide leader in integrated facilities services that improve the quality of life in the workplace.
Margot has responsibility for the strategic direction, implementation and alignment of its integrated global diversity and inclusion initiatives across five global dimensions: Cultures & Origins, Disabilities, Gender, Sexual Orientation/LGBT+ and Generations.
Recently she has been engaged in tracking the effect of Covid-19 on those dimensions and supporting the global human resources teams within Sodexo around racism and intersectionalilty.
Margot will be joined by our panel of speakers to include:
Seamus Egan – Managing Director, Transdev
Stella Clarke – Chief Marketing Officer, Murex
Philippe Cosson – CEO AP Partners Ltd, Strategic Partner Zenger Folkman