Event report
Replay: WG West Region - Renewable Energy & Tourism in the West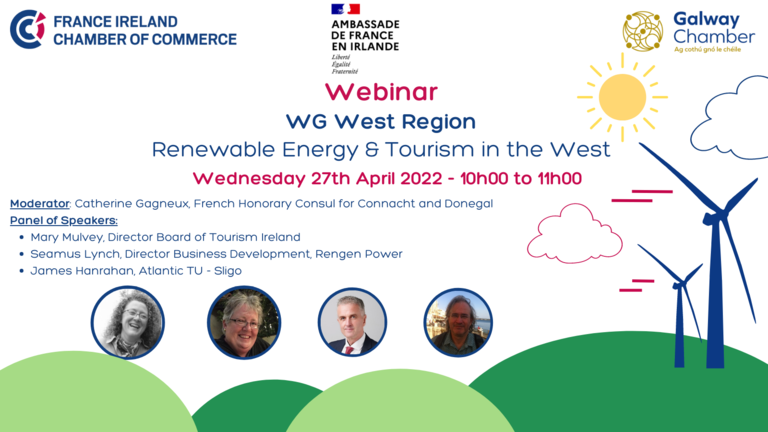 The West of Ireland is the ideal location for the development of renewable energy projects that will put Ireland on a more sustainable path. This provides the region with a huge opportunity to create new jobs and grow businesses in areas such as offshore wind and solar energies.

It also allows the West to develop a stronger tourism sector that promotes sustainability.

During this event, Catherine Gagneux (Moderator) led a discussion on how the development of renewable energy projects could lead to a stronger tourism sector in the region.

Seamus Lynch (Director Business Development, Rengen Power) provided an overview of renewable energy projects in the West region. Rengen Power work closely with Neoen Ireland, the leading French independent producer of renewable energy that has recently entered the Irish market.

Mary Mulvey (Board of Tourism Ireland) shared her insights on the strong link between the success of the tourism sector in Ireland and the achievement of sustainability goals.

James Hanrahan (Atlantic TU – Sligo) discussed renewable energy and impact on tourism with a focus on sustainable destination management.