How Irish Industry will need to adapt for tomorrow Speakers: Fergus Elebert, Veolia and Padraig Liggan, Alexion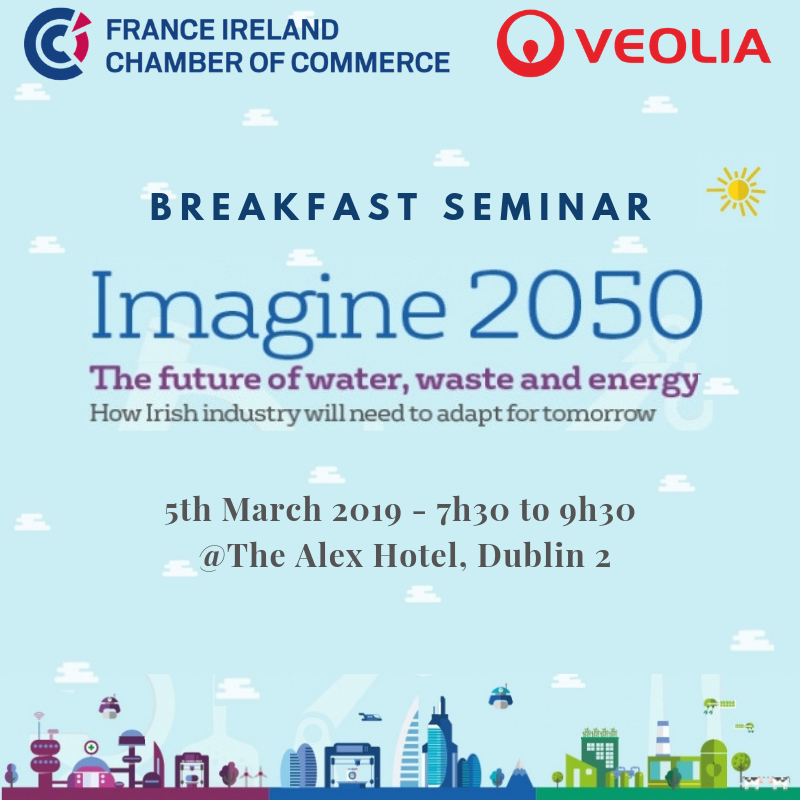 Veolia's Imagine 2050 report brings together thinking around the global trends that will impact on Irish business between now and 2050. Fergus Elebert will explore what that could look like for the pharmaceutical, food & beverage and manufacturing industries in Ireland; particularly in terms of resources, supply chain and processes. Padraig Liggan will give further insight to this from a client, pharmaceutical industry and process engineering perspective.
Veolia in Ireland
Employs nearly 600 people and is a leading resource management and environmental services provider with a comprehensive range of energy, water and waste services that are designed to help our customers, build the circular economy and preserve natural resources.
The focus of the Ireland business is on helping industrial companies, services organisations and the public sector to operate in a more efficient manner. Veolia works with Ireland's largest manufacturers, primarily within the pharmaceuticals and food & beverage industries, including clients such as AstraZeneca, Bristol Myers Squibb, Irish Distillers and Tipperary Co-op.
An estimated 20m people benefit from Veolia's services across the UK and Ireland, with revenues in that zone of €2.1bn in 2017.
Biopharma and biotech industry in Ireland
Information quoted from the IDA Ireland biopharmaceuticals webpage
The Biopharmaceutical industry has made a capital investment of approximately $10 billion in new facilities in Ireland, most of which has come in the last 10 years. This represents close to the biggest wave of investment in new BioTech facilities anywhere in the world.
10 of the top 10 world's pharmaceutical companies are located in Ireland and we were the 7th largest exporter of medicinal and pharmaceutical products in the world in 2014, with €39bn in annual exports of pharma, bio and chemistry produce. 75 pharmaceutical companies and 40 FDA approved pharma & biopharma plants operate in Ireland.
Manufacturing excellence in Biopharmaceuticals is a hallmark of Ireland's success in the sector. This is constantly driving growth in the likes of Bio Tech, which has developed from two manufacturing sites in 2003 to 18 in 2017.