The Chamber
110th General Assembly of CCI France International

The France Ireland Chamber of Commerce (FICC) is part of a network of French Chambers abroad, known as CCI France International. This network allows us to formally work with the 120 CCI's that are situated in 90 countries worldwide, and the network has proven invaluable in helping FICC to develop its strategy as a membership organisation, and key player in Franco-Irish business.
This year, Cliona McGowan (Director FICC) and Eoin Scott (Treasurer FICC) attended the 110th AGM of CCI France International in Paris on 27th June.
M Arnaud Vaissié, President CCI France International, spoke enthusiastically about the impressive developments of the network worldwide.
His speech (in French) is available here. The network, according to the 2016 report, now has 120 CCI FI in 120 countries; a network of 35,000 members in total, with 4,000 events and 87 business incubators. The figures for 2016 also indicated a 4.6% increase in revenue, with 98% of the CCI FI self-financing.
The "Rapport D'Activité 2016" is available here. This report is available in French only.
You can also access a few photographs taken at the AGM by clicking here. The photograph below was taken in the garden of the CCI Paris, with State Senators, the Presidents and Managing Directors of our 120 CCI FI, the International Directors of the regional CCI in France, and special guests from Ile de France.
If you wish to know more about CCI France International, please do call Cliona (01 644 9760) to find out more.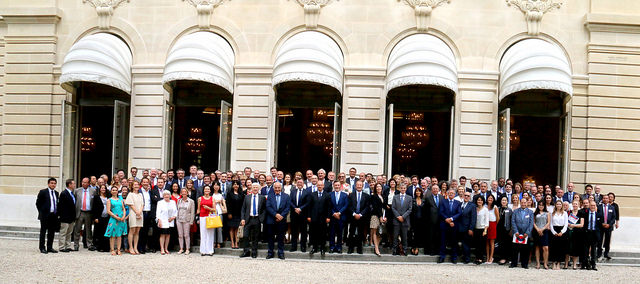 Source: CCI France International