Interview • Portraits • Members
Ireland's Tom Dolan finishes seventh overall after brutal final stage of La Solitaire du Figaro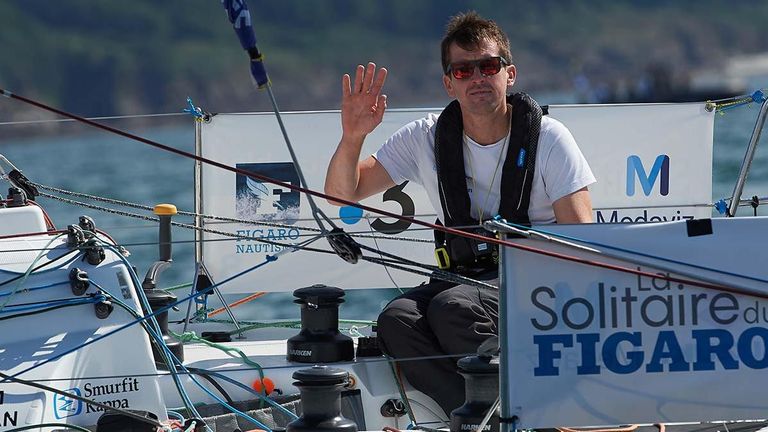 Crossing the line at 21h49 last night, an exhausted Dolan was objective, pleased to have again finished inside the top 10 of the 34 starters who set off from the same waters three weeks ago. Still a 15th on the final 640-mile stage across the Bay of Biscay in strong winds and big seas did not allow him to hold on to the fifth place that he started the final leg with.

The Irishman again showed he is one of the best in the fleet, leading this stage after the first turning mark last Sunday night and Monday morning as the race set out across the Bay of Biscay. A tactical error in the middle of the Biscay leg, when passing through two successive weather systems, cost him dearly. By the time he sailed around the rocky Los Farallones islets on Spain's north coast he was down in 19th and only managed to gain four places on the 240 miles tough downwind stage to the finish line.

Twelfth on the first leg to Port La Foret, Dolan excelled on the second leg into Royan when he was fifth and the fastest on two high winds in the English Channel before the wind died and the race restarted 140 miles from the finish line.

After a last leg which saw winds of 35kts and big Biscay seas which meant 24 hours of steering with no sleep, Dolan said in Saint Nazaire, "I feel disappointed in the last leg, I made a stupid mistake. I made a point of positioning myself to the south of everyone, so I would be to windward when the change came and then chickened out to stick with the leaders and that is exactly what I should not have done. I should have stuck to my guns."

"But seventh is good, it is a top 10 but it's not fifth!" he smiled ruefully, "But I am sailing so much better. I was more free in my thinking in what I did and not worrying so much about the others. My starts have been better which is pleasing after all the work we did this winter and then I just need even more confidence in myself."

Managing his limited sleep times is also an area he sees for improvement, "I need to get that sorted then I can start winning these things. I think I took sleep for granted and made bad decisions at tired times of the race. But seventh overall is top 10 and it was close. I am pleased to have been up front a lot and to show that 2020 (when he was fifth overall) was no fluke. That is good. Now I just want to sleep and go home see my mum in Ireland."
Source : SMURFIT KAPPA MANAGEMENT
French version here