The Chamber
Amarenco scoops top Irish firm in France prize

Special award for effect on climate change goes to Luas operator, French firm Transdev
Amarenco, the John Mullins-led solar energy company, was on Thursday named Best Irish Company in France at the 2017 Ireland France Business Awards in Paris, while technology group Axway was named Best French Company in Ireland. The awards were presented by Minister of State for European Affairs, Helen McEntee, at a gala dinner at the Westin-Paris Vendôme hotel.
A special award for Impact on Climate Change went to Transdev, the Irish branch of the French public transport operators that runs the Luas in Dublin.
Ms McEntee stressed the importance for Ireland of expanding trade with the rest of the EU, which accounts for 38 per cent of Irish exports, in the run up to Brexit.
"Ireland is an open, modern and outward-looking economy that is at the heart of Europe, " she said. "Our future is within the EU and it is vital that we continue to develop our links with friends and neighbours in Europe."
Ireland's trade with France stood at just under €14 billion last year.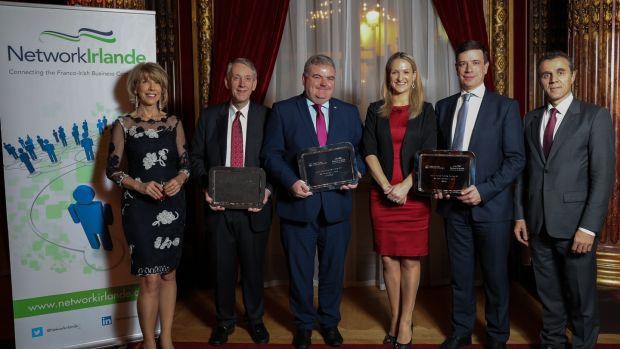 At the awards in Paris: Irish Ambassador Patricia O'Brien; Peter Lunden-Welden, CEO of Transdev Ireland; John Mullins, CEO of Amarenco; Minister of State for European Affairs Helen McEntee; Joël Depernet, SVP Global R&D Axway; and French ambassador Stéphane Crouzat.
Irish Ambassador to France Patricia O'Brien and French ambassador to Ireland Stéphane Crouzat attended the award ceremony and dinner.
Joel Dupernet, executive vice president for global research and development, accepted the award on behalf of Axway, which set up in Ireland in 2012 when it bought the Irish start-up Vordel. Axway's application programming interface or API, called Amplify, provides web pages in the digital cloud from which programmes in 100 countries receive information. APIs are how smartphones receive information.
Amarenco chief executive John Mullins accepted the best-firm-in-France award. The Irish investment fund specialises in renewable energy, especially solar farms, mainly in France. Mr Mullins was previously chief executive of Bord Gáis.
Peter Lunden-Welden, the Swedish chief executive of Transdev Ireland, accepted the award for Impact on Climate Change. Transdev received the contract for the Dublin Luas in 2004 and continues to operate the system, which carries 36 million passengers annually.
Source: Irish Times