Companies news • Members
Brendan Buckley Joins The Whisky Magazine Hall Of Fame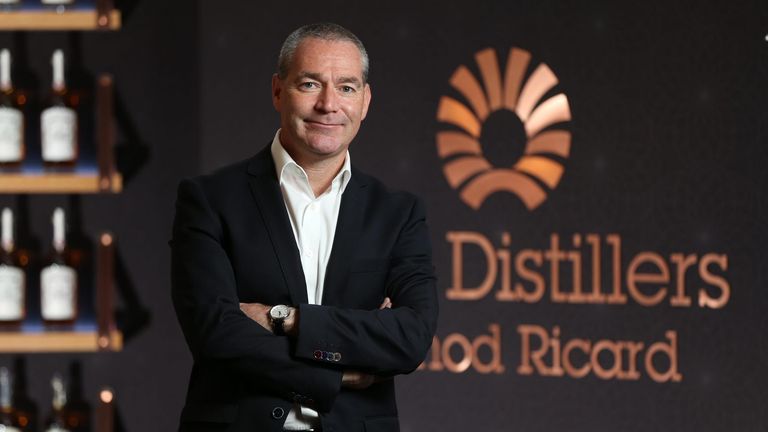 Brendan Buckley, International Marketing Director at Irish Distillers, has been inducted into the Whisky Magazine Hall of Fame – a permanent tribute honouring individuals who have made a lasting contribution to the world of whiskey. He was presented with the distinguished honour in recognition of his personal contribution to the growth of the Irish whiskey category on the global stage at the 2021 Whiskey Magazine Awards this evening.
Buckley joined Irish Distillers in 2001 and since then has been instrumental in the development of its leading portfolio of Irish whiskey brands as well as innovation across the business. His marketing leadership and approach to brand building has played a key role in the development of Jameson into a global top 10 spirit brand and to place it among the top 5 whiskeys in the world.
While Jameson might garner the international headlines, one of Buckley's most notable achievements has been born from his passion for Irish whiskey and his crusade to revive Ireland's unique whiskey style – single pot still Irish whiskey. Working with the Masters in Midleton Distillery, over the past decade Brendan has spearheaded the rejuvenation of this category and of brands such as Redbreast, The Spot Range and Midleton Very Rare. Positioning these brands amongst the very top echelon of world whiskeys, today they are firmly placed alongside the finest Scotch, bourbon and Japanese whiskeys. Further evidence of the renaissance of this whiskey style can be seen in the number of new Irish distilleries who produce, or who plan to produce single pot still Irish whiskey.
In partnership with his colleagues in Midleton, Brendan has overseen the development of new expressions such as Redbreast Lustau Edition, Redbreast 27 Year Old, Midleton Very Rare Barry Crockett Legacy, Midleton Very Rare Dair Ghaelach and the rebirth of the historic Spot Range. In the past six months, he oversaw the re-introduction of Blue Spot, re-uniting the legendary Spot Family for the first time in over half a century. Additionally, Brendan inspired the introduction of the pioneering Method and Madness brand which has sought to push the boundaries of Irish whiskey through the generations of expertise of the Midleton Masters in conjunction with the inquisitive minds of Midleton's apprentice whiskey makers.
"I am truly honoured and humbled to join the Whisky Magazine Hall of Fame," comments Buckley. "It has been a pleasure to play a part in helping Irish whiskey regain its rightful place among the world's leading spirits, and to see Jameson recognized and loved the world over. Having the opportunity to revive single pot still Irish whiskey and breathe new life into brands such as Redbreast or to create new brands such as Method and Madness, has also been a professional and personal achievement for which I consider myself very lucky. I want to thank the devoted production, marketing and innovation teams at Irish Distillers, both past and present, whose dedication to craft and brilliance has contributed to the expansion of the category. While I look back on the past decades with immense pride, I am also extremely excited about what the future of Irish whiskey holds."
Conor McQuaid, Chief Executive Officer and Chairman at Irish Distillers, adds: "It is an absolute pleasure to offer my congratulations to Brendan upon his induction to the Whisky Magazine Hall of Fame. This honour demonstrates his role in strengthening the Irish Distillers' portfolio, through ground-breaking marketing and innovation over the years. From his stewardship of Jameson toward being a global icon to the resurrection of the single pot still category which has changed the Irish whiskey landscape, to the birth of the experimental Method and Madness brand, Brendan's marketing vision continues to shape the Irish whiskey category's reputation for excellence."
The 2021 Whisky Magazine Awards, which also recognise the most exquisite whiskeys from across the globe, saw Redbreast 21 Year Old being crowned World's Best Pot Still Irish Whiskey. The accolade is a testament to the consistency in quality of single pot still Irish whiskey craftmanship at Midleton Distillery and further strengthens Redbreast's position as the most decorated pot still Irish whiskey in the world.

Source