Committees
France underlines support for Ireland on Border issue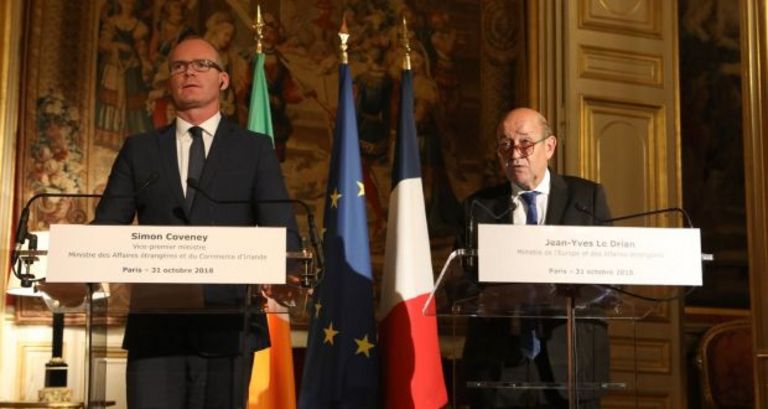 Talks between the Tánaiste and Minister for Foreign Affairs Simon Coveneyand French foreign minister Jean-Yves Le Drian in Paris on Wednesday focused on the urgency of a breakthrough in Brexit negotiations and contingency planning for trade between Ireland and France in the event of a no-deal Brexit.
Both ministers said this is a "moment of truth".
"It's about the survival of the Good Friday Agreement," Mr Le Drian said. "We continue to support Ireland on this crucial question."
"The friendship and solidarity we continue to receive from the French government regarding Irish vulnerability and exposure in the context of our closest neighbour leaving the EU is very reassuring," Mr Coveney said. "We are running out of time."
Both ministers noted repeatedly that the UK twice committed to a "backstop" to prevent a hard border, in December 2017 and in March 2018. Both called on the United Kingdom to "follow through on commitments already made".
Piqued
Mr Le Drian sounded piqued when he said, "The proposal by [the EU's chief negotiator] Michel Barnier was validated once by British authorities and no longer is . . . The ball is in the British camp."
British Brexit secretary Dominic Raab said on Wednesday that he expects a deal on the UK's withdrawal from the EU to be finalised by November 21st. Asked if that was possible, Mr Coveney replied, "I think it is possible to get a deal in November." But, he added, "There will not be a new EU leaders summit on Brexit if there is not a signal from the negotiating teams that there is something to sign off on.
"Time is really short," Mr Coveney continued. "If there were to be a summit as soon as November 21st, that means the signal would have to come from negotiating teams next week."
Preparedness
The ministers also discussed preparedness in relation to transport, in the event of a no-deal Brexit. France is Ireland's largest market for lamb and seafood, an important market for beef and dairy products and a point of access to the continent, Mr Coveney said. "The vast majority of that product arrives in France via the land bridge that is Britain."
France and Ireland are considering a system that would differentiate between Irish and UK trucks arriving in Calais, Mr Coveney said. "Irish trucks would not be inspected, while UK trucks might be . . . Contingency plans are well under way."
As a native of the Breton sea port of Lorient, Mr Le Drian said he considers that the sea unites rather than separates people. "We are neighbours and we have ports. In the hypothesis of a no-deal, France and Ireland are working on a new maritime relationship. Sea routes already exist between Normandy, Brittany and Ireland. There is a chance to reinforce them."
Source: irishtimes.com