Members
IRELAND'S PAMELA LEE AND TIPHAINE RAGUENEAU WIN CAP POUR ELLES SELECTION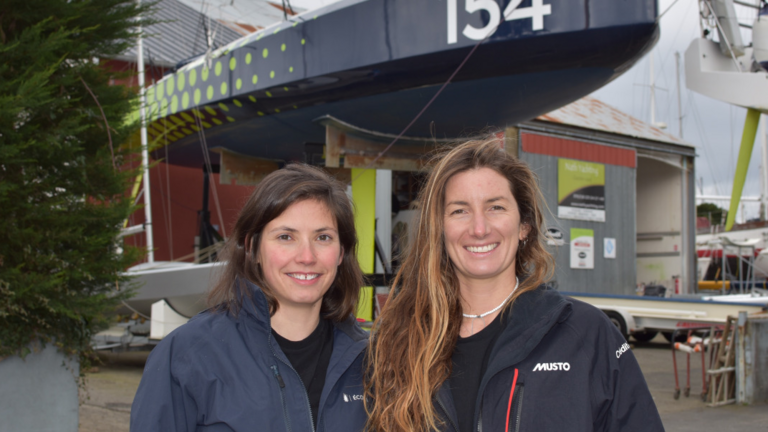 Irish-French duo Pamela Lee and Tiphaine Ragueneau have won the Cap pour Elles selection for this Autumn's two handed Transat Jacques Vabre race from Le Havre in France to Martinique in the Caribbean. Cap pour Elles is an initiative designed as an opportunity to support up and coming female talent giving them the best chance to compete on this famous Transatlantic race. It follows a selection system for a pair of women who will participate on their first transatlantic race on a Class40 during the Transat Jacques Vabre Normandie Le Havre 2023.
It offers a grant of 40,000 euros, free registration fees, sports support plus help with organization and communication. It is a great boost for the Franco-Irish crew who have been selected!
Their selection is announced today, International Women's Day, as they take their first steps to getting themselve and their boat into the best possible shape to be ready at the start of the famous Route du Café on October 29 in Le Havre.
After Julia and Jeanne Courtois benefited from the Cap pour Elles scheme for the last race in 2021, completing a solidTransat Jacques Vabre Normandie Le Havre, now it is the turn of Lee and Ragueneau who won the 2023 selection ahead of nine other pairs of young women.
Following the call for application 10 files were received, two from American sailors, one from South Africa proof that the scheme has garnered interest well beyond France.
For Lee, 34, from Greystones, Co Wicklow, and Ragueneau, the news of their selection came yesterday.
"I knew we were on the short list and I had prepared a small bottle of champagne just in case. But I couldn't reach Tiphaine who was at work..." says Lee, 34, who has moved to Lorient, France as she pursues her professional ocean racing career, aiming to have her own Class40 programme soon.
The good news !
"I saw calls from Pam on my mobile but I was operating on a difficult cat and I couldn't pick up!" recalls Ragueneau, who is 30 and is a vet working both in the town and country in the French Finistère region. Once the cat was calmed down the duo shared the good news aboard Polka Dot a Lombard Class40 design which won the 2018 Route du Rhum, drinking a champagne toast together.
"Our season had already started when the Transat Jacques Vabre Cap pour Elles call for projects came out. We have an agreement with the owner of the boat that we can start training," explains Lee, who has many thousands of ocean miles as delivery crew including nine Transatlantic deliveries, most recently on Multi50 and Class40 yachts but has never competed in a major professional offshore racing event (as required by the selection regulations).
Her French counterpart has mainly competed in inshore match-racing
"At first, I imagined doing Figaro 3 this season, but when Pam contacted me to sail with her in Class40 last year, it didn't take long for me to make up my mind. With this Coffee Route, I feel like I'm stepping up a level straight off."
Three shortlisted, but they stand out.
Launched in January, Cap pour Elles 2023 saw five applications stand out after a first round of votes. The top three then met for a final analysis via a grid of criteria established by the jury, made up in particular of Gildas Gautier and Antoine Robin, co-directors of the Transat Jacques Vabre Normandie Le Havre, Christine Courtois, head of diversity at the Federation Française de Voile and Francis Le Goff who is the race director.
The public was invited to vote on social networks but their choice only counted for one point out of the 10 in total and in fact did not influence the final decision.
"What particularly appealed to Pamela and Tiphaine is that their project is international and already well advanced. And it is clearly not a one off shot," explains Anne Combier. "These girls are organized, see far, they are very complementary and really involved in the inclusion of women in ocean racing. A beautiful partnership! "
Well known on the pontoons as Team Manager, Anne Combier will be responsible as a "mentor", supporting the pair throughout the year "We won't help chase sponsors for them because a hungry crew looking and working for themselves is more appealing but beyond that we will give them the tools and the processes, both for the management of the project and its legal and administrative aspects. I don't have too many doubts about the outcome..." adds Combier who manages Vendee Globe Yannick Bestaven's IMOCA Maître CoQ programme
Christine Courtois of the FFV, Vice-President in charge of gender diversity, confirms: "The French Sailing Federation can only be delighted to see that the Transat Jacques Vabre Normandie Le Havre is committed to the issue of gender diversity and makes the call for projects "Cap pour Elles ". Sailing is one of the rare disciplines where women and men compete together. Nevertheless, today too few women dare to embark on an offshore racing project. The fact of being accompanied and supported by Anne Combier in their preparation, of benefiting from a financial boost, represents a major asset. "Cap pour Elles" reperesents a real chance for women to live a great human and sporting adventure, to highlight their talent,and to realize their dream by racing across the Atlantic."
Budgeting, training, communicating...
With 40,000 euros allocated by Cap pour Elles, the duo's budget is not yet complete but the grant is a step in the right direction and offers substantial credibility to sponsors, "We are looking for 250,000 euros in total, we have serious leads but no title partner yet. We also know that if we increase our involvement and cut back on salaries, we can start with a little less," analyzes Tiphaine.
"The idea is to have time to train well and learn the package because our boat is quite competitive compared to the last generations" adds Lee in her excellent French.
Cap Pour Elles ensures the the two sailors will benefit from a specific training program set up by the Normandy Sailing League in Le Havre. Benjamin Thomas supervises along with Cédric Château (himself a top-level racer in Class40) who will take care of the training.
Sam Davies, a godmother
The organization also wanted the Cap pour Elles duo to be supported by a talented sailor and that role is fulfilled by British sailor Sam Davies, skipper of Initiatives Cœur, who will be their nautical godmother. Davies enthuses, "I am very enthusiastic to accept the role with Cap pour Elles. I started my offshore racing career when Tracy Edwards offered me an incredible opportunity in her crew on the Jules Verne Trophy and I had the chance to sail alongside my "role models" on this round of the world and learn a lot. I want to do what others did for me when I started and help women get started in offshore racing and improve the mix. I can't wait to meet Pamela and Tiphaine and see how I can bring my experience to help them prepare for their transat best."
Start date is Sunday October 29 when the guns sound but with this support it is certain the duo will give a great account of themselves on the race to Martinique.