Members
Unlimited journeys up to 30 minutes within a 24 hour period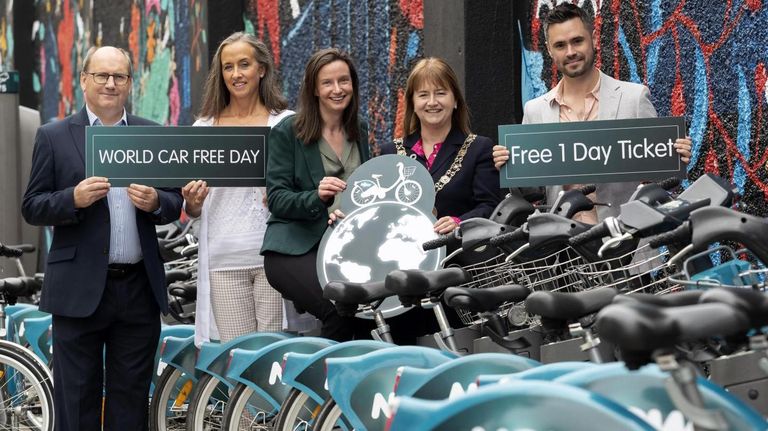 Dublin City Council, NOW and JCDecaux announce that NOW dublinbikes 1 day tickets will be free to customers on Thursday, 22nd September, to celebrate World Car Free Day.
To avail of the free 1 day ticket offer new customers can sign up to the scheme via the NOW dublinbikes app, choose the one day ticket option and enter the code NOWDBS to avail of 24 hours unlimited free journeys under 30 minutes. The 1 day ticket usually costs €3.50 and allows customers to make unlimited journeys up to 30 minutes, over a 24 hour period. After 30 minutes, rental charges apply. Existing customers can also take advantage of this offer.
The NOW dublinbikes 1 day ticket is a new option that was launched last May and has become a very popular choice since then, with over 40,000 journeys made already. It is hoped that making the 1 day ticket option free on World Car Free Day will encourage more people to sign up and give cycling a go in the city on September 22nd and beyond.
The 1 day ticket option is one of a number of initiatives introduced by NOW dublinbikes over the past couple of years. A new NOW dublinbikes app was launched in March 2020, which allows users to take out a bike via their phone for the first time. 79% of all of the scheme's journeys are now made via the app.
In addition a hybrid electric version, e-dublinbikes, is available to annual subscribers for an additional annual fee of €60 per annum. e-dublinbikes is an ideal option for commuters looking for a quick and environmentally friendly way of getting around the city. These initiatives have made the scheme more user friendly and have opened it up to a wider audience.
Lord Mayor of Dublin, Caroline Conroy said "The Now dublinbikes 1 day free ticket allows Dubliners the opportunity to explore Dublin city by bike on World Car Free Day. Cycling and walking are great ways to get around the city, while keeping fit and reducing pollution. I would encourage people to avail of this great promotion and get out on their bikes, as active travel benefits both the individual and the city as a whole."
Brendan O'Brien, Head of Technical Services, Dublin City Councilsaid "The NOW dublinbikes free 1 day ticket offers Dubliners and visitors to Dublin the opportunity to travel around the city by bike on World Car Free Day. You can make unlimited 30 minute journeys within a 24 hour timeframe. If you are interested in discovering more about cycling, sign up for a free 1 day ticket. Why not cycle to work, call to your local library, or visit one the many tourist attractions in the city. Cycling, it's a fun and healthy way to travel, so try it out."
Mick Forry Director of NOW, said "The offer of a free 1 day NOW dublinbikes ticket is a great initiative to get Dubliners out on their bikes on World Car Free Day. It will give those who haven't used NOW dublinbikes yet a taster of how convenient it is. We are immensely proud to be associated with dublinbikes and the service it provides to the Dublin community. We look forward to continuing the great work with Dublin City Council and JCDecaux to increase the usage of the dublinbikes scheme."
Joanne Grant, Managing Director JCDecaux Ireland, said "World Car Free Day is the perfect opportunity for people to trial our 1 day subscription option for free, with unlimited journeys for the day up to 30 minutes. We hope this promotion will encourage people to download the NOW dublinbikes app, release a bike using their phone and experience how easy, fun and healthy it is to explore the city by bike."
Source : JCDecaux