Members
Our member Tom Dolan finishes third on Stage 4 of La Solitaire du Figaro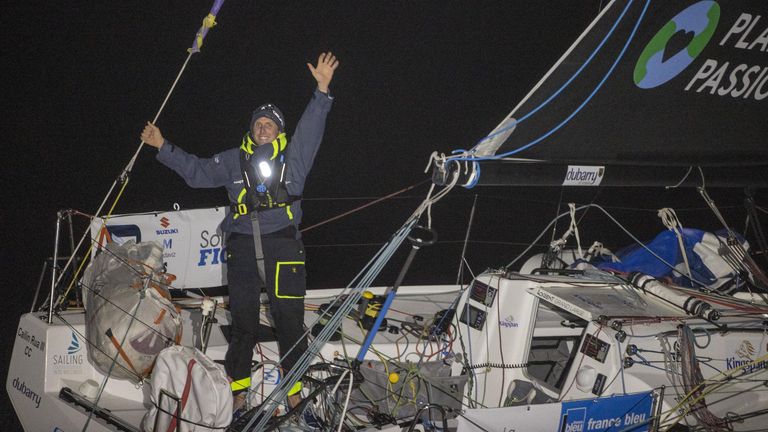 Ireland's leading solo offshore sailor Tom Dolan (Smurfit Kappa-Kingspan) finished the 52ndedition of La Solitaire du Figaro on a high note when he crossed the finish line of Stage 4 into Saint Nazaire in third place, the first La Solitaire stage podium of his career.
After leading the 34 boat fleet around the Fastnet lighthouse at 0240hrs early on Tuesday morning, in dirty, wet and very dark conditions, Dolan, 34, held out resolutely, duelling with Macaire down the 370 miles downwind passage to the finish line, finishing only 11 minutes and 40 seconds behind the French skipper Macaire– who finished runner up overall. Macaire crossed the finish line just over four minutes behind Stage 4 winner, French Olympian Pierre Leboucher (Guyot Environnement-Ruban Rose). The race's longest leg, at 687 miles, started on Sunday from Roscoff and returns to Saint Nazaire where the race started on Sunday August 22nd
After a promising tenth on the first leg, Dolan had two finishes he was disappointed with, 22ndon Stage 2 and then Stage 3 into Roscoff stinging him most, not just with the resulting 19thplace but losing a another three hours on his rivals after becoming stuck in very light winds and a strong contrary current within sight of the finish line.
Dolan is placed provisionally 15th overall.
A tired but elated Dolan smiled, "It's great to get that first podium on La Solitaire but the cherry on the cake was being first round The Fastnet, that was a bit special for me. It was cool. I did really just stick to my plan in the English Channel I had seen there was more breeze in the west. And there was some herd mentality going on with everyone sticking together. I spent that whole night on my own not really knowing where anyone was in the thick fog then about six in the morning it got light and there was a break in the fog and I could see the whole fleet to windward.
Coming back it was tricky. I ended up sticking with Xavier a lot and I ended up being convinced I was furthest west and south. You have no AIS, nothing so on the Figaro you know nothing.
"It ends the season on a high. It shows what I am capable of when I can get to the front. I feel great, just delighted. I am a bit tired, but I really feel good. I can't wait for next year. I have to have more confidence in myself. The second leg I was just not good and into Roscoff it was bad luck, bad timing to get stuck like that."