Also
Parisian promise: Irish firms urged to look to France post-Brexit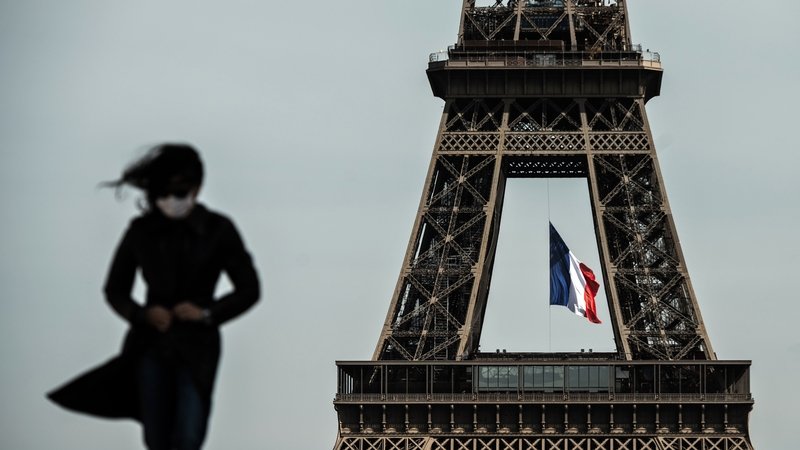 Margot Slattery, FICC president, features in the RTE article
"As you look through France you see the growth in speciality coffee, so it became a logical place for us to invest time and energy into," said Rob Horgan, owner of Cork's Velo Coffee Roasters.
"Last year when the pandemic hit, the same as every business, our world was tipped upside down and we needed to look at what we were going to do," he said.
Their solution was to overhaul their website, taking advantage of a Local Enterprise Office grant designed to boost businesses' online sales.
"Like most Irish businesses, I suppose, we were a bit lazy and we looked at the UK," he said. "It was very easy, because it's the same language, we've similar habits and similar interests."
Sales grew rapidly - with Velo soon selling more in one day than they would have done online in all of 2019. But, inevitably, much of that came to a crashing halt in January.
"We started to see the same as everyone, all the problems getting product into the UK, dealing with returns, people dealing with duty, the UK consumer not realising what Brexit meant for them, these huge Revenue warehouses in the UK that everything had to pass through, that were causing days and days of delays," he said.
"That prompted us to turn around and say 'okay, we can't be lazy anymore - we need to look further afield'.
"That's where France came in."
France is, of course, synonymous with coffee, but that could potentially make it more difficult for a new entrant to break in to.
However Rob says changing consumer tastes there have lined up well with what Velo has to offer.
"That whole lighter roasted coffee wave is growing across France," he said.
Velo's blends are also themed around different bicycles, which Rob felt would give it a resonance with local consumers.
"We were also lucky enough to do a blend for Nicolas Roche, and he pushed that out through Monaco which gets us more exposure in France."
It also helped that the company's general manager, Suzanne Casey, spoke French.
Sales have gone from strength-to-strength, though Rob admits that Velo is only taking a tiny fraction of the French market. But, given its scale, that marginal share could make a huge difference for a small Irish firm.
It also goes some way towards covering the hit the company's British sales have taken since Brexit crystallised at the start of the year.
But while Velo has been targeting France for months, other Irish firms have been embedded in the market for much longer.
Shell company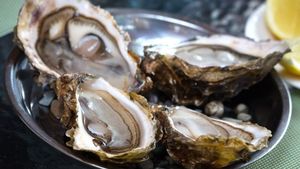 Much like with coffee, shellfish - and particularly oysters - have a strong link with French cuisine, with a massive industry there dedicated to supplying consumer demand.
"They would produce around 140,000 tonnes of oysters per year, Ireland is at about 10,000 tonnes," said Marie-Aude Danguy, founder and managing director of Sligo-based Triskell Fisheries. "So there's a huge gap there."
But, such is the demand for shellfish and the reputation of what is produced here, France is now a major importer of Irish oysters too. And Marie-Aude's Triskell Seafoods has been a significant part of that trade for more than 20 years.
"When I began selling to France that was the start of the exporting market, really, and I met some French customers who were very reticent to the importation of Irish oysters," she said. "They felt it was a threat, they felt Irish people were going to undercut their prices to enter the market.
"In fact, as the years went on, people began to realise that the quality of Irish oysters was definitely superior and we find today that Irish oysters get a better price than French oysters in general," she said.
"Things have completely turned around, we have a lot of French companies who are investing in the Irish industry to secure their supply."
Brexit has created problems for Triskell, as new food regulations have made trade withUK firms more difficult for Irish suppliers.
But the flip-side of that is that it has also disrupted UK shellfish sales to the EU, which has created an opportunity for Irish producers.
"Traditionally there's a lot of winkles imported from Scotland to France, and when the new health regulations came in on the 1st of January, as the UK was a third country, people were prevented from selling their shellfish to France," she said. "Suddenly the price of winkles in Ireland stayed really high in January and February, where usually there's a huge dip after Christmas."
The UK was not a significant supplier of oysters pre-Brexit, so Triskell itself has not seen the huge benefit from the changing trade relationship that others may have.
But with 80% of its sales coming from France, Triskell has also been relatively well insulated against the downsides created by Brexit. That cover is something many Irish firms would have been thankful for at the start of the year.
Love thy (EU) neighbour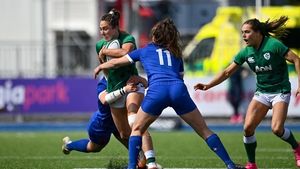 Ireland and France are no strangers in sport - but there are deep business links too
While Ireland-UK and even Ireland-US trade links are hard to miss, the country's trade links to France already run deeper than many would assume.
"Ireland is France's 7th biggest supplier, and France is Ireland's 3rd biggest supplier," said Margot Slattery, president of the France Ireland Chamber of Commerce. "I think it's one of those quiet relationships that has been happening all the way along, and people underestimate it."
She says that the link between the countries spans the more obvious realms of food and drink, all the way through to finance, medicine and technology.
That includes the ever-growing list of Irish firms that are selling into France, but also a sizeable number of French firms that have operations and interests here; including Pernod Ricard, Sodexo and Axa.
Margot says that, while trade to and from the UK is not going away, she now expects that many companies here may increasingly see France as an easier option for international expansion.
"France is probably one of the countries that is very easy to do business in, it has that very open business relationship," she said.
Doing business in France has also been aided by improved infrastructural links between Ireland and France - including multiple new ferry routes that were launched earlier this year.
France would have a stereotype for expecting a lot from its visitors' linguistic abilities, but Margot also dismisses this as a potential barrier to trade.
"As a person who has very poor French, I never struggle with that," she said. "Most people speak English so beautifully that I give up after a while!"
However she says there are some things that would-be traders would do well to bear in mind.
"I think it is important to understand the cultural parts - I would say that's a lot more important," she said. "A little bit like the Irish, the French like to know you, they like to build a relationship, there needs to be a little bit of that socialisation.
"You don't just go brashly in and think you're going to have a meeting for 30 minutes and go out the door."
French businesses also tend to take processes seriously, so Margot advises firms to be on-the-ball in areas like ethics, regulations and supply chains before looking to sell.
Rolling out the rouge carpet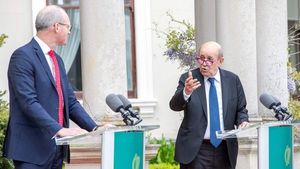 Minister for Foreign Affairs Simon Coveney with his French counterpart Jean-Yves Le Drian
French authorities are clearly keen to further strengthen trade links between the two countries.
Last month France's minister for foreign affairs visited Dublin to talk about greater cooperation between the two countries.
A new slogan - 'France, your nearest EU neighbour' is also now being pushed by diplomats, appearing in both English and Irish on business cards and the banner of the French embassy's Twitter account.
But despite that geographical advantage, stronger Irish-French trade is not a given.
Ireland's exports to the European Union fell by 12.4% in the first three months of the year, according to the Central Statistics Office.
But exports to France fell at the even faster rate of 14% in the same period.
Meanwhile, imports from the EU were down 5.7%, but from France they fell by more than 10%.
Clearly companies are at an early stage in figuring out the post-Brexit trade landscape - and the pandemic is still distorting trade flows. But it may take a lot more than a slogan to convince Irish companies of the merits of a French outpost.
And despite everything that Brexit has done to complicate trade with Britain, it appears that Irish companies are not yet ready to de-prioritise that market either. Even if they are simultaneously courting French buyers too.
"In February we did a handful of orders to the UK, where as in October, November December there were 20 or 30 packages leaving here every day for the UK," said Rob Horgan.
For Velo, the biggest problem was the fact that its UK customers were being hit with duties on their doorstep - which led to a collapse in sales.
"This was creating huge customer service issues for us - and we're a small team."
But Rob says the UK market is still simply too important to abandon, so instead they have tweaked their system - introducing a 'duty paid' system on UK purchases in April.
"We're trying to regain that lost ground on last year, and developing across the European markets," he said. "By the end of the year we feel that we'll have gotten our UK market back."
Marie-Aude and Triskell Seafood is also hanging tough in the UK, despite the workload she now faces to do so.
"There is extra work but we've been dealing with customers in the UK for a long time," she said. "We tend to be very loyal and we didn't want to give up on them!
"At times it would cross your mind [to leave the UK market] because it is far more complicated," she said.
"The way I view it is, if we are concentrating on this now and we become the expert in this field, I feel others may have given up but we won't."