Communication - Press
Selio Medical, winner "Rising Star" Ireland France Business Awards 2021, awarded €2.5M EIC Accelerator funding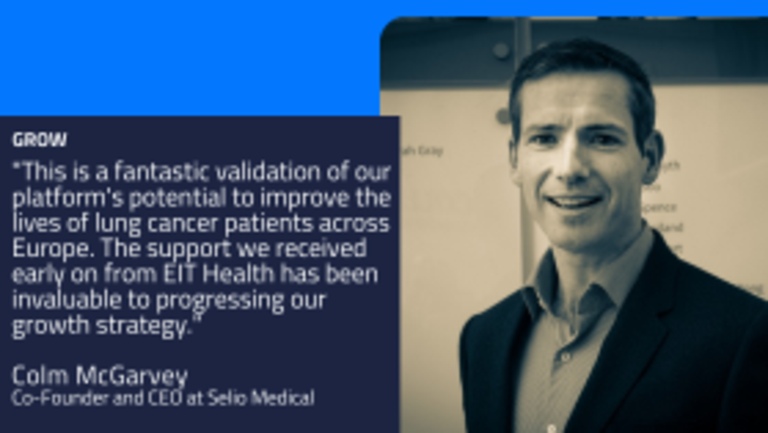 Selio Medical, a Dublin-based EIT Health-supported start-up has secured €2.5M in funding from the European Innovation Council's (EIC) March 2022 Accelerator funding call. Selio Medical develops a novel platform medical device and the first indication to transform lung biopsy procedures. This latest investment will support growing the team in Ireland and further technical development as it prepares to launch to market.
Approximately 320,000 people are diagnosed with lung cancer in Europe each year. At present, early detection is carried out via lung biopsy to analyse a small number of cells or tissue sample, which has potential for timely intervention to save lives. However, 1 in 3 patients suffer a collapsed lung (a pneumothorax) during the biopsy procedure. This dangerous complication can lead to distressed patients in pain, longer hospital stays and ultimately, increased health care costs.
Selio Medical, a Trinity College Dublin spin-out, is revolutionising this procedure by preventing a collapsed lung before the biopsy even takes place. The team's patented Selio Sealant System is the world's first device to temporarily pre-seal the needle access route into a patient's lung, preventing this common, costly and dangerous complication. This technology could help patients avoid extended hospital visits and unnecessary additional costs.
"We are honoured to receive this grant support from the EIC Accelerator. This is fantastic validation of the progress made by Selio Medical and the exciting potential of our platform device to improve the lives of lung cancer patients across Europe. Our innovative device aligns perfectly with Europe's Beating Cancer Plan, improving early detection to turn the tide against cancer," said Colm McGarvey, Co-Founder and CEO at Selio. "The support we received early on from EIT Health, and playing a leading role on an EIT Health innovation project, have been invaluable to progressing our growth strategy."
Selio Medical was founded by Colm McGarvey and Garrett Ryan who met during the EIT Health-supported BioInnovate Fellowship programme at NUI Galway. The company was later awarded EIT Health Headstart funding for a proof of concept and is now part of a three-year pan-European innovation project team working to solve the biggest problems lung cancer patients face.
With this investment, the team at Selio Medical will now progress technical development, leading to regulatory approvals in Europe and USA. The company then plans full-scale commercialization and clinical use of the device.