The Chamber
The Ireland France Business Awards 2016 Gala Dinner on Thursday 24th November 2016

An Taoiseach, Enda Kenny announced Grassland Agro, Venn Life Sciences and ECOCEM France as the winners of the 2016 Ireland France Business Awards at a special gala ceremony last week in the Royal Hospital Kilmainham.
The bi-lateral trade awards have been organised by the France Ireland Chamber of Commerce (FICC) and NetworkIrlande for over 25 years.
The awards recognise excellence within the Franco-Irish business community and celebrate the outstanding work that the winning companies have made within their respective sectors and to the progression of business and investment between Ireland and France.
The high calibre of candidates across all three categories was recognised by a jury chaired by Gerry Halpenny, Senior Partner, LK Shields and comprised of Sinéad Lonergan (Director France, Enterprise Ireland), Sebastien Carbon (Deputy Managing Director UK & Ireland, Ubifrance), Rory McNeill (Marketing Procurement and Communications Director, CRH), Gisèle Hivert-Messeca (Directrice Ubifrance Irlande), Pierre Mongrué (Chef du Service Economique, l'Ambassade de France en Irlande), Jim Rice (Chartered Engineer & Business Consultant), Niamh Breslin (IDA Europe) and Anne Marie Ronayne, (MD Terra Connecta).
The Best French Company in Ireland was presented to Grassland Agro, a company borne of a merger between the French-owned Irish Timac and the Irish-owned Grassland Fertilizers. Grassland Agro supplies specially blended commodity fertilisers and high performance products for the Animal, Soil, Fertiliser, Dairy and Hygiene sectors. The company has grown both in size and success since its inception in 2013 – it currently employs a team of 100 people in Ireland and reported a turnover of over €120m in 2015.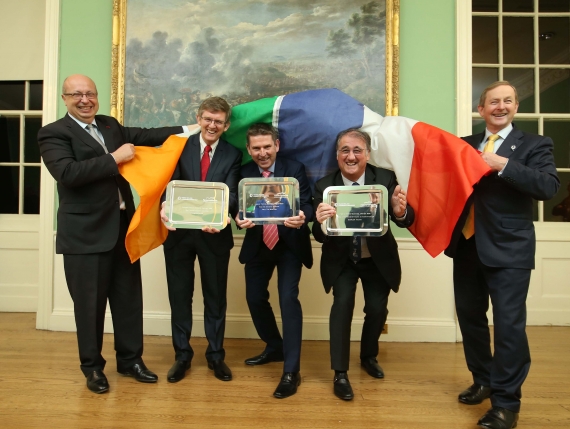 Venn Life Sciences, clinical trial management group, was selected as the Best Irish Company in France. Headquartered in Dublin, the organisation conducts research, drug development and clinical trial management for health, medical and academic organisations. Venn has a team in excess of 200 employees across America and Europe and more than 50 of those are based in France.
The special award for Impact on Climate Change was awarded to ECOCEM France, part of the Irish company ECOCEM Materials Ltd. Founded in 2000 ECOCEM Materials produces Ground Granulated Blast-furnace Slag (GGBF), an environmentally friendly cement used throughout Europe. ECOCEM's GGBF product helps to lower the carbon footprint associated with concrete production and usage.
Speaking on the night, An Taoiseach Enda Kenny said, "In a world that is increasingly uncertain, it is important that all Europeans continue to work together. We are living in challenging times. Across the Atlantic, the recent Presidential election has seen unprecedented debate and new political forces emerging. And of course, one of the largest economic challenges facing both Ireland and France is the exit of a valued partner in the EU, the United Kingdom. The Irish Government is continuing to ready itself to meet the Brexit challenge. There are particularly significant implications for Ireland."
He added, "In all future negotiations following the formal notification under Article 50 to the EU, the Government will ensure that the best possible outcomes will be achieved for our citizens, for the economy, for Northern Ireland and for the Common Travel Area. The challenges that we are presented with are ones that we will face together with our French partners. At times of uncertainty we all naturally hold to that which is loyal and endures, and the Franco Irish partnership is certainly that."
Please click here to have a look at the event's pictures!
Source: www.businessworld.ie