Members
Tom Dolan Reflects On His Return to Ireland With Smurfit Kappa-Kingspan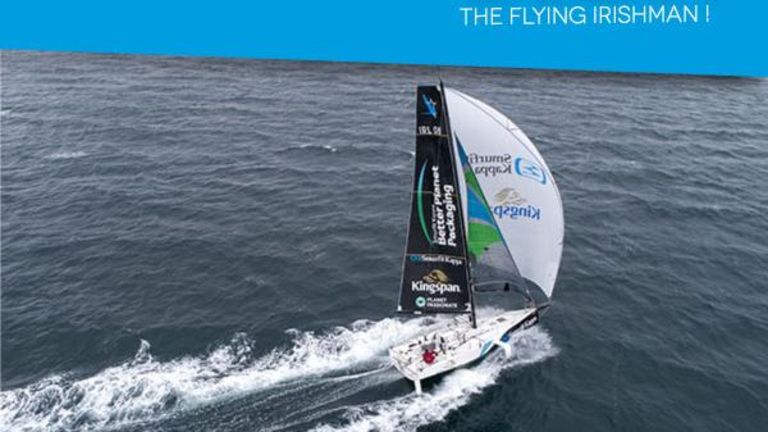 Ireland's leading active solo offshore racer Tom Dolan has returned to his sailing base in Concarneau, France after a successful visit to his native country with his Beneteau Figaro 3 Smurfit Kappa-Kingspan. Finally able to return to Dublin Bay and take dozens of guests sailing over the last month in conditions which were ideal. Among the groups he took out on Smurfit Kappa-Kingspan were invitees from the two principal sponsors and long time supporters Dubarry as well as young offshore sailors from all around Dublin Bay. Among the most enjoyable trips was returning to the dock at the National YC with Sailing Into Wellness guests wearing big smiles. Tom extends his thanks to Commodore Conor O'Regan of the National YC for their hospitality and berthing.
He reports, "It was very positive all in all. I did an awful lot of sailing. I took out as many people as I physically could on the basis I planned to take a break when the weather was bad. And then the weather never was bad and so I took a lot of people sailing. It was great. I was sailing all month three or four days a week. We had guests from Smurfit Kappa and from Kingspan. We had guests from Dubarry and I did a photo shoot with them which was fun. I have not done any modelling so far but I don't think I'll be making the cover of GQ any time soon.

It was great to be with Dubarry and have them out as they have been with me since 2015 as I have never had a boat back in Ireland. It was very cool."

It was very rewarding to be able to show off the boat and exactly what is entailed racing on the Figaro solo circuit;" People seemed to enjoy it. I took a whole group of Under 25s offshore racers from all around Dublin Bay. I did two half days with Sailing Into Wellness which was great. They had done some sailing trips on a 60 foot wooden classic so this was very different and some had done some 1720 Sportsboat stuff, it is just nice to take them out for a blast and put a smile on their faces, to make them smile when their lives have maybe been a bit shit at some time."

An impromptu Coastguard exercise also added value allround, "We had the coastguard come over us at one time with a helicopter. They asked to do a practice rescue so I did what I could. That was fun and good to be able to help them out improve their skills, hoping that some others will benefit – ideally not me! They emailed me to thank me, saying they they have so few options to practice 'live' like that so I am happy to have helped."
The next part of Dolan's agenda is more straightforward…rest!

"Now I plan to get a little bit of rest. It is a little bit early to say much but I am a little disappointed to see La Solitaire will be just three legs but there is a lot of racing to be planned for next year. I am a bit tired and fatigued now. I had a week off after La Solitaire and then was straight back to Ireland for this month of sailing and now bringing the boat back to France, it has been great but a bit tiring.