Our vision on …
Foreign investment: France retains top spot for 3rd consecutive year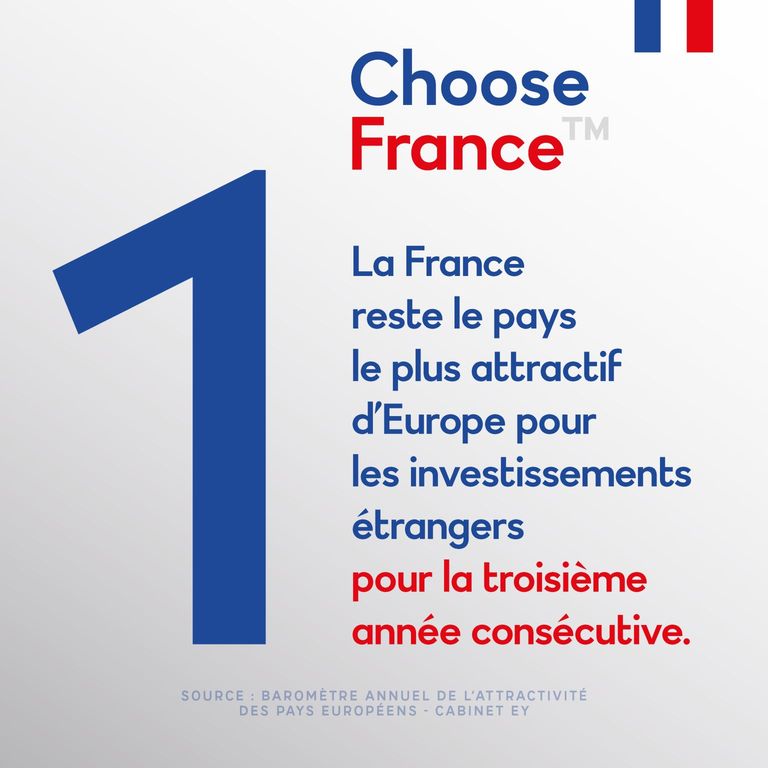 For the third year in a row, France is the leading destination for foreign investments in Europe despite the Covid-19 crisis.
London, May 31, 2022 – The 2022 edition of EY's "France Attractiveness Survey" published today confirms France's increasing appeal as an investment location. According to the latest results of the EY survey, France is the most attractive country in Europe for the 3rd successive year, with 1,222 investment projects identified in 2021, an increase of 24% compared with 2020.
The annual report identifies international businesses in Europe each year and analyses the perception that foreign economic decision-makers have of the country. It measures real and perceived attractiveness, comparing the main European countries.

Investment in France on the rise
While investments in France have continued to grow, projects grew by only 2% in the UK and fell by 10% in Germany. As such, France has a much greater capacity for economic recovery than in the rest of Europe, with a record level of investment projects, while the number of projects in the EU is below its 2019 level and confirms that it is a safe haven for foreign investors.
· 1 in 5 investment projects in Europe now takes place in France
· The average number of jobs created per project (38) is also up by 12% compared with 2020
With 69% of projects being site expansions (compared to 23% in the United Kingdom and 19% in Germany), France stands out for the satisfaction of foreign investors established in France; a business that establishes itself here, expands here and sustains its activity here. As such, it creates employment and economic benefits for the region in which it operates.
France, the top European destination for Irish investment The results of the EY report reflect the momentum observed in Business France's Annual Report on foreign investment in France published in March, which showed that in 2021:
· France was #2 European destination for Irish investment
· 15 Irish investment projects created 310 jobs in France
· 62% of jobs created thanks to Irish investment were in IT services and over a quarter of investment projects from Ireland were in the sector
· Irish investment projects in the construction industry made up a 1 in 5 of all projects and 12% of jobs created or maintained. 
· 40% of investment projects from Ireland were to create local headquarters
· 220 Irish companies operated in France in 2021 (vs 150 en 2020), employing a total of 31,000 people locally

France remains the top choice for manufacturing projects
France remains in first place in the European rankings for manufacturing projects, with 482 projects, ahead of the UK (145 projects) and Germany (106 projects). This is all the more important as supply chains are being rebuilt and France has an important role to play in this reorganisation.
The "France 2030" investment plan, which addresses the sectors of the future, constitutes a fundamental factor of attractiveness in which foreign investors have their place and have understood it well, since 56% of them plan to relocate their activities to France over the next three years.
Foreign investments trickle down to all areas of France and not just to the major cities. As illustrated in the data in the latest report on foreign direct investment by Business France, nearly one in two industrial projects is located in an area of fewer than 50,000 inhabitants (45% of projects and 72% of industrial projects in areas with fewer than 20,000 inhabitants).

Investors #ChooseFrance
"France's attractiveness has been endorsed for the third year in a row by the international leaders interviewed by EY. Business France has played its part in attracting investment alongside its regional partners, which have made it possible to support more than 6,900 projects in France and its overseas territories since 2017, thereby creating more than 185,000 jobs. Business France will have been at the origin of 59% of international investment projects in 2021" notes Christophe Lecourtier, CEO of Business France.
"The EY Attractiveness Survey 2022 recognizes the impact of the reforms introduced during the government's 5-year term (2017-2022) and the economic recovery plan, which have made it possible to strengthen France's structural key strengths. Being the most attractive country for the third year in a row, and by increasing the gap with Germany and the UK, is already a success in itself. Knowing that 56% of investors would like to set up or expand their operations and repatriate their industrial activities to France demonstrates the importance of continued reforms and of being attentive to them." says Pascal Cagni, Chairman of Business France."